Nieuws
APEXX S3, Purpose-Built to Optimize Workflows Across Multiple Industries, Expands to 24 CPU Cores and Accelerates to 5.8GHz
25.10.22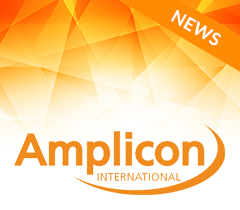 BOXX Technologies, the leading innovator of high-performance computer workstations, rendering systems, and servers, and represented by Amplicon in the Benelux, today announced that its APEXX S3 workstation now features 13th Gen Intel® Core™ i7 and i9 processors. The new CPUs offer exceptional performance for CAD, 3D design, motion media, and other professional software applications. BOXX is among the first workstation manufacturers to ship systems equipped with the new processors.
"The new 13th Gen Intel Core processors are making it possible for creators to work faster than ever before," said Mandy Mock, VP & GM of Intel's Desktop, Workstation and Channel Group. "From 3D modeling to photo & video editing and more, professionals can take advantage of the BOXX APEXX S3 systems powered by Intel Core processors which dramatically accelerate creative applications and render times and give increased responsiveness during intense tasks to keep creators moving forward."
13th Gen Intel® Core™ i7 and i9 processors featuring performance hybrid architecture are designed to improve hardware and software efficiency and performance with multiple cores and features like Intel Turbo Boost Max Technology 3.0, 20 total CPU PCIe lanes, and up to 36MB Intel Smart Cache.
The new 24-core Intel processor inside the performance-tuned APEXX S3 is overclocked up to 5.8GHz, while the reliable BOXX workstation also includes advanced liquid cooling, 128GB of memory, and up to two NVIDIA® RTX™ A6000 GPUs. Support for the latest DDR5 provides control over memory configuration, while Thunderbolt 4 support provides simple and fast peripheral connections. The versatile APEXX S3 is purpose-built for SOLIDWORKS, Autodesk 3ds Max, Maya, and Revit, Adobe Creative Cloud, Cinema 4D, V-Ray, and other applications, delivering optimal performance for CPU and multi-GPU tasks
News Archive
27.03.23

Amplicon has expanded its flagship industrial computer family, the Ventrix. With major advancements in performance and security, the new Ventrix 12th gen range continues to set the standard for reliable industrial computing....
09.02.23

Amplicon, the UK market leading manufacturer of industrial computers, has announced a massive leap forward in their industrial embedded computer range with the new Impact-D 100EL-A and Impact-D 1100A series of industrial embedded computers. ...
14.11.22

Amplicon, the UK market-leading manufacturer of industrial computers has introduced the Impact-R 1210F serie...
28.09.22

Bring edge computing to the harshest of environments with Amplicon's latest ultra-small IoT edge ready PC. ...
13.04.22

Amplicon versterkt zijn populaire reeks embedded PC's verder met de nieuwe Impact-E 280A-serie, een krachtige computer die geschikt is voor een breed scala aan embedded toepassingen....
11.03.22

Amplicon heeft zijn assortiment computers met korte diepte uitgebreid met de nieuwe Impact-R 1000-serie, een krachtige industriële rackmount computer met ultrakorte diepte....
01.02.22

Amplicon kondigt de uitbreiding van hun succesvolle Impact-D-reeks aan met drie nieuwe industriële embedded pc's, de Impact-D 100A, 160A en 100AL-A....
13.05.20

De nieuwe Amplicon Impact-P familie is een serie van ultra compacte fanless embedded PC systemen, uitgerust met de Intel Atom E3930 (Apollo Lake)....
16.01.20

Amplicon, the UK market leading manufacturer of industrial computers, has introduced the new Impact-D 100AL...