Nieuws
Impact-P embedded PC voor IoT toepassingen
13.05.20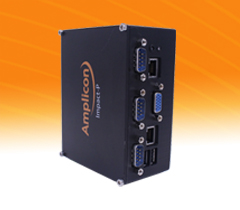 De nieuwe Amplicon Impact-P familie is een serie van ultra compacte fanless embedded PC systemen, uitgerust met de Intel Atom E3930 (Apollo Lake).
De Impact-P systemen zijn robuust en ultra compact (120(W) x 56(H )x 97(D)mm), en eenvoudig aan te passen of uit te breiden naargelang de uiteindelijke toepassing.
De Impact-P systemen kunnen uitgerust worden met een M.2 type SSD (PCIe of SATA-III) . Het Impact-P model AL32 beschikt over een mini DisplayPort aansluiting, VGA poort, 2 x USB3.0, 2 x Gb LAN en 3 x COM poort. Het AL32 PSE model beschikt ook over een mini DisplayPort aansluiting, echter in combinatie met 2 x USB3.0, 1 x Gb LAN, 1 x COM poort en 2 x PoE+ poorten (Power over Ethernet). Beide versies beschikken over een mPCIe slot welke gebruikt kan worden voor specifieke I/O uitbreidingen. Een door PoE gevoed model is eveneens een optie.
Uitgevoerd in een DIN rail mountable fanless behuizing van aluminium kan de Impact-P ook in onvriendelijke omgevingen gebruikt worden. Uniek is dat zelfs bij kleine series klant specifieke aanpassingen gemaakt kunnen worden door de volledige productie in eigen huis uit te voeren. Denk hierbij aan een logo op de voorzijde van het systeem en additionele I/O connectoren in de behuizing.
News Archive
27.03.23

Amplicon has expanded its flagship industrial computer family, the Ventrix. With major advancements in performance and security, the new Ventrix 12th gen range continues to set the standard for reliable industrial computing....
09.02.23

Amplicon, the UK market leading manufacturer of industrial computers, has announced a massive leap forward in their industrial embedded computer range with the new Impact-D 100EL-A and Impact-D 1100A series of industrial embedded computers. ...
14.11.22

Amplicon, the UK market-leading manufacturer of industrial computers has introduced the Impact-R 1210F serie...
25.10.22

APEXX S3 workstation now features 13th Gen Intel® Core™ i7 and i9 processors. ...
28.09.22

Bring edge computing to the harshest of environments with Amplicon's latest ultra-small IoT edge ready PC. ...
13.04.22

Amplicon versterkt zijn populaire reeks embedded PC's verder met de nieuwe Impact-E 280A-serie, een krachtige computer die geschikt is voor een breed scala aan embedded toepassingen....
11.03.22

Amplicon heeft zijn assortiment computers met korte diepte uitgebreid met de nieuwe Impact-R 1000-serie, een krachtige industriële rackmount computer met ultrakorte diepte....
01.02.22

Amplicon kondigt de uitbreiding van hun succesvolle Impact-D-reeks aan met drie nieuwe industriële embedded pc's, de Impact-D 100A, 160A en 100AL-A....
16.01.20

Amplicon, the UK market leading manufacturer of industrial computers, has introduced the new Impact-D 100AL...