Nieuws
Amplicon expands its ultra-short depth range with its most powerful Intel Atom PC yet
14.11.22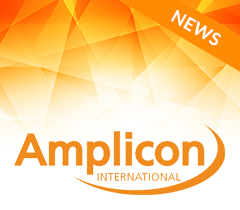 Amplicon, the UK market-leading manufacturer of industrial computers has introduced the Impact-R 1210F series, a completely fanless PC built in an ultra-short depth chassis powered by the powerful Intel's Elkhart Lake processors,
Designed for industrial applications, the new Impact-R 1210F utilises Intel's first processors specifically designed for IoT and edge applications, the Intel Elkhart Lake family of low-power SoCs. These processors build on new levels of CPU and graphics performance with integrated IoT features, real-time performance, manageability, security, and functional safety.
The Amplicon Impact-R 1210F series stands out for its extensive I/O capabilities, allowing to connect a vast number of remote I/O devices. In addition to supporting PC-specific interfaces such as 2.5Gb Ethernet, Serial and Wi-Fi, PCIe 3.0 x2, DisplayPort, eDP, HDMI, and USB, it also supports UFS 2.0, eMMC 5.1, SD, and SPI/eSPI interfaces that are common in edge applications.
The new series of Impact-R rackmount computers come in a fanless and ultra-short depth design, saving valuable rack space that can be used to install additional equipment making them ideal for applications where space is at a premium.
News Archive
27.03.23

Amplicon has expanded its flagship industrial computer family, the Ventrix. With major advancements in performance and security, the new Ventrix 12th gen range continues to set the standard for reliable industrial computing....
09.02.23

Amplicon, the UK market leading manufacturer of industrial computers, has announced a massive leap forward in their industrial embedded computer range with the new Impact-D 100EL-A and Impact-D 1100A series of industrial embedded computers. ...
25.10.22

APEXX S3 workstation now features 13th Gen Intel® Core™ i7 and i9 processors. ...
28.09.22

Bring edge computing to the harshest of environments with Amplicon's latest ultra-small IoT edge ready PC. ...
13.04.22

Amplicon versterkt zijn populaire reeks embedded PC's verder met de nieuwe Impact-E 280A-serie, een krachtige computer die geschikt is voor een breed scala aan embedded toepassingen....
11.03.22

Amplicon heeft zijn assortiment computers met korte diepte uitgebreid met de nieuwe Impact-R 1000-serie, een krachtige industriële rackmount computer met ultrakorte diepte....
01.02.22

Amplicon kondigt de uitbreiding van hun succesvolle Impact-D-reeks aan met drie nieuwe industriële embedded pc's, de Impact-D 100A, 160A en 100AL-A....
13.05.20

De nieuwe Amplicon Impact-P familie is een serie van ultra compacte fanless embedded PC systemen, uitgerust met de Intel Atom E3930 (Apollo Lake)....
16.01.20

Amplicon, the UK market leading manufacturer of industrial computers, has introduced the new Impact-D 100AL...