Nieuws
23.08.18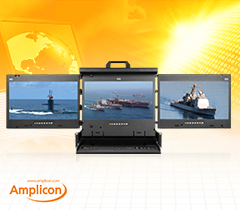 News Archive
23.08.18

...
05.04.18

...
19.02.18

Amplicon, the UK market leader in the manufacture of high-performance industrial computers has announced plans to continue its commitment to innovative, new product development in 2018 and will be introducing brand new Industrial computers every month....
05.02.18

Amplicon introduce new Apollo Lake Industrial Computers wth 15+ Year Roadmap...
05.02.18

Amplicon, market leading manufacturer of industrial computers, launches its most powerful Industrial Panel PC to date, the new Senses 5400. ...
26.11.16

Met de SGW1-MB-NM van Exemys kan NMEA 0183 data afkomstig van een GPS-apparaat of weerstation met behulp van een Modbus apparaat uitgelezen worden. ...
09.11.16

De Impact-E 200HT fanless embedded "box PC" van Amplicon is een systeem geschikt voor een breed operationeel temperatuurbereik, nl. van -20°C tot en met 70°C...
27.10.16

Icron vervangt de EL5xxx familie KVM extenders door de geheel vernieuwde EL5300 serie. ...
26.09.16

De Impact-E 210 embedded "box PC" van Amplicon is net als de andere systemen uit de Impact-E range,...