Nieuws
Amplicon announces plans to continue leading the industrial PC market
19.02.18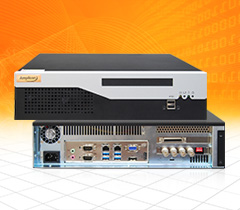 Amplicon, the UK market leader in the manufacture of high-performance industrial computers has announced plans to continue its commitment to innovative, new product development in 2018 and will be introducing brand new Industrial computers every month.
The first release is the Amplicon Impact-R 156/157, a powerful Mini-ITX embedded computer, designed to outperform in industrial applications that require demanding.
The Amplicon Impact-R 156/157 Mini-ITX embedded computer features a sleek and compact design suited to desktop, rack and wall mounting.
The new systems utilise the Intel Q170 chipset, delivering support for both 6th and 7th generation Intel® Core™ processors as well as offering increased bandwidth, full integration and functional expansion making them ideal for gaming, kiosk, digital signage, medical/healthcare, defence and industrial automation applications.
The Impact-R 156/157 offers advanced features, including 4GB pre-installed DDR4 memory (up to 32GB), RAID 0/1 compatibility and ultra-fast transfer speeds for critical operations where data security is top priority. In addition, the new models feature a local SIM card slot, enabling cellular connectivity options for applications where cabling or Wi-Fi is restricted, such as on-road vehicle applications.
Furthermore, the Impact-R 156/157 comes with three display outputs for monitoring purposes and can be purchased with an optional DVD drive and wall/rackmount kit, helping businesses to implement their embedded computing needs with ease.
News Archive
05.02.18

Amplicon introduce new Apollo Lake Industrial Computers wth 15+ Year Roadmap...
05.02.18

Amplicon, market leading manufacturer of industrial computers, launches its most powerful Industrial Panel PC to date, the new Senses 5400. ...
26.11.16

Met de SGW1-MB-NM van Exemys kan NMEA 0183 data afkomstig van een GPS-apparaat of weerstation met behulp van een Modbus apparaat uitgelezen worden. ...
09.11.16

De Impact-E 200HT fanless embedded "box PC" van Amplicon is een systeem geschikt voor een breed operationeel temperatuurbereik, nl. van -20°C tot en met 70°C...
27.10.16

Icron vervangt de EL5xxx familie KVM extenders door de geheel vernieuwde EL5300 serie. ...
26.09.16

De Impact-E 210 embedded "box PC" van Amplicon is net als de andere systemen uit de Impact-E range,...
01.08.16

De microBlox™ UB Series I/ O-modules van Acromag bieden een compacte, high-performance oplossing voor aansluiten en conditioneren van sensoren en veldapparatuur op data-a...
26.07.16

De Virtual Access cellulaire routers kunnen ook voor SCADA applicaties ingezet worden, zelfs als protocollen als IEC101, IEC104, DNP3 gebruikt worden....
26.07.16

Acromag heeft een korte introductie film gemaakt over de XT-serie Ethernet I/O modules, welke hier is te vinden....